The Brainstormer app for iPhone and iPod is a bit of kindling for creative minds. A tactile tool to randomly combine a plot, a subject and a setting or style, the Brainstormer can provide that elusive moment of inspiration for writers, painters, or any kind of creative endeavour. It's a great way to combat creative block, to spark new ideas for a new project or to summon up quick subjects for doodling, sketching or journaling.
Features
Time-tested and artist-proven, featuring the carefully curated 'Classic Brainstormer' lists.
Full multi-touch support for an authentically tactile and interactive experience.
Circular 'Wheel Mode' and linear 'Slot Machine' mode provides two views into the nearly endless combinations.
Shake your phone or roll the dice for "Random Spin".
Fully editable: Tweak the 'Classic Brainstormer' or create your own wheels entirely.
Found the perfect combination? Send it via email or share it on Twitter and Facebook.
Screenshots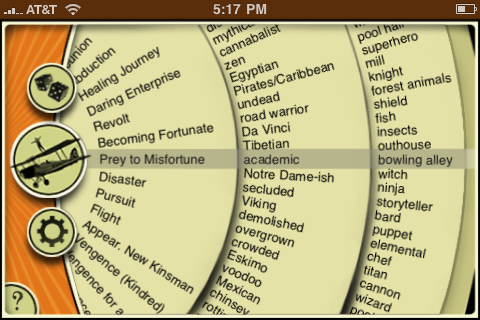 Wheel mode: spin the wheels to generate unique combinations of plot/conflict, style/setting, and subject/location.
Slot mode. Shake the device (or roll the dice) for a random spin!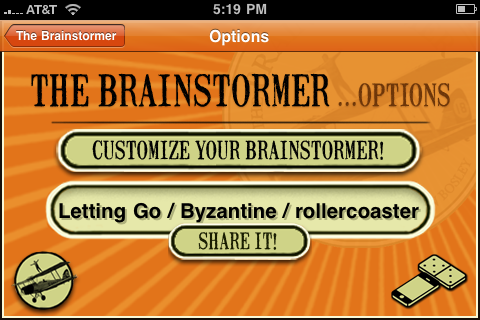 The word lists are fully editable. Make your own wheels.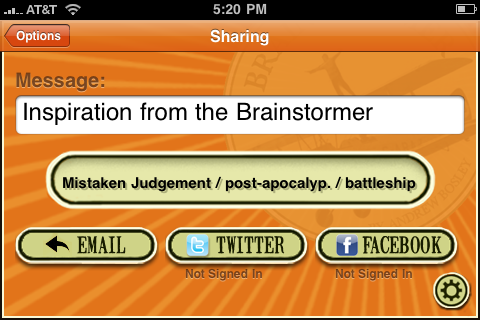 Share your inspiration via email, Twitter or Facebook.
History
The original Brainstormer was created by concept artist Andrew Bosley while he was in art school at SJSU, studying visual development and illustration. As Andrew describes it, "I was always trying to give myself little concept projects to keep myself sharp and thinking. So I created a list of objects, persons, things, etc. and a list of styles, adjectives, etc. These very large lists were in the back of my very first Moleskine (an address book used as a sketchbook). The idea was to combine an object or person with a style or adjective (ex. Byzantine submarine or subterranean factory) to create unique and interesting combinations to concept out and illustrate."
Sketch Hunter, the art of Andrew Bosley
Even in this crude form, the Brainstormer was a useful fuel for generating sketch concepts. But Andrew wanted something more sophisticed, more tactile. During a lull in freelance work, he designed an elegant and evocative cover for it and turned it into an actual, physical pinwheel. He also added the innermost wheel: "I wanted to add greater depth to the combinations", Andrew recalls, "Sometimes I would want to create an actual illustration from the designs it inspired. But I needed a story if the illustration was going to be interesting. So this new ring of conflict was a way of adding context to the concepts that came from the Brainstormer."
People loved spinning the wheels and generating ideas with the Brainstormer, and demanded a digital version. With the help of a good friend and co-worker, John Michel, the web version of the Brainstormer was created.
Check out the Web version here
The reaction to this version was overwhelming. "Who needs the muse when you have this?" one blog commenter said. "Brilliant". And although Andrew originally used the Brainstormer for drawing, many writers began to take notice and found the Brainstormer equally useful for generating story ideas and writing prompts.
A great many of the commenters wondered about an iPhone version. It seemed like a perfect fit. One of those dreamers was Joel Davis, a writer who happened to also be an iPhone developer. Joel began using the Brainstormer to generate idea for short scripts and stories. "When I ran into writer's block," Joel said, "I would start spinning the wheels on the Brainstormer. Often I would go from having zero ideas to having to choose between two or three stories. It wasn't always the prompts directly, sometimes these would lead me somewhere entirely unexpected."
Andrew and Joel teamed up to bring the Brainstormer to the iPhone, bringing the classic Brainstormer wheels to the touch screen and redesigning the look and feel to fit the device. In addition, they added the oft-requested ability to customize or completely replace the word lists, and the ability to share your inspiration through social networking.
The web version of the Brainstormer has already provided that elusive spark to hordes of creatives all over the globe. It inspired a "Spin the Wheel" short story contest on AuthorCulture. Now that it has arrived on the iPhone, we're excited to see where people will go with it, and what new works it will inspire.