The Insanely Simple Five Minute Fiction Writing Exercise That Will Get You Published
The Brainstormer can serve as a limitless supply of fiction writing exercises. Ideas from The Brainstormer can spark a quick flash fiction workout, ignite short stories, or even kick off entire screenplays or novels. You can also use the World Builder to create rich and unexpected settings, and the Character Builder wheel to create fascinating three dimensional characters.
Writing killer fiction takes practice. Practice takes inspiration. Just spending a few minutes writing less than a page every day, using random ideas from The Brainstormer will elevate your writing and inspire the kinds of original ideas that make publishers salivate over your manuscript.
The Best Defense Against Writer's Block
It's a terrible feeling to be stuck facing a blank page. You know that once you get started, once you build that momentum it can carry you to a stack of pages ready for a deadline. But where to begin? The Brainstormer is a powerful weapon against writer's block. It's that little, magical push to get you started.
Feature Packed, Fiction Powered
Time-tested and artist-proven, featuring the carefully curated 'Classic Brainstormer' lists.
Full multi-touch support for an authentically tactile and interactive experience.
Circular 'Wheel Mode' and linear 'Slot Machine' mode provides two views into the nearly endless combinations.
Shake your phone or roll the dice for "Random Spin".
Fully editable: Tweak the 'Classic Brainstormer' or create your own wheels entirely.
Found the perfect combination? Send it via email or share it on Twitter and Facebook.
Lock/Unlock wheels while searching for the perfect combination.
Scintillating Screenshots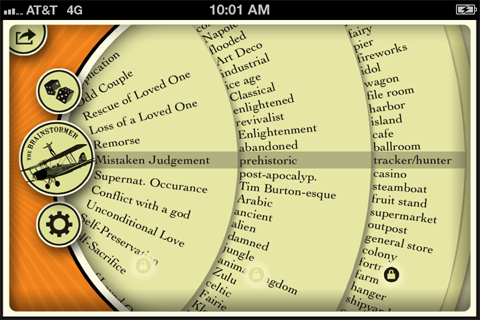 Wheel mode: spin the wheels to generate unique combinations of plot/conflict, style/setting, and subject/location.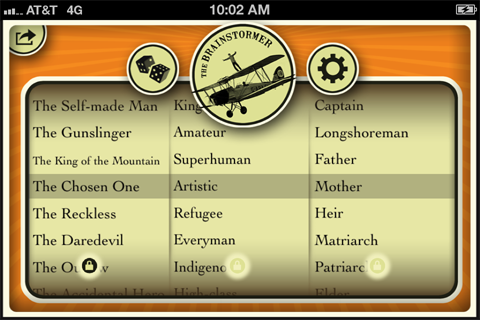 Slot mode. Shake the device (or roll the dice) for a random spin!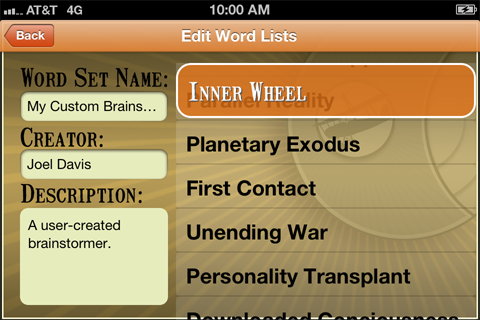 The word lists are fully editable. Make your own wheels.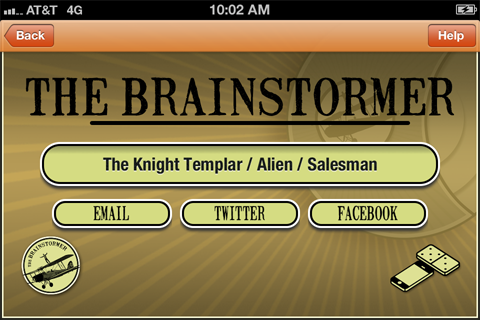 Share your inspiration via email, Twitter or Facebook.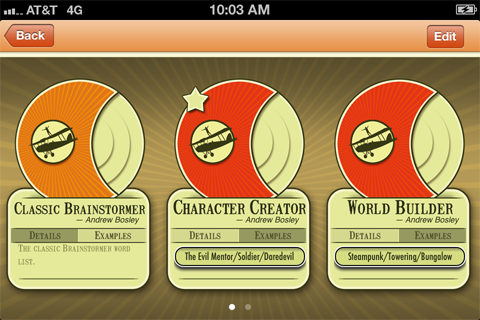 In addition to the Classic Brainstormer combinations, try the new World Builder, Character Creator and Imagined Animals wheels!
Try it Online
Try the FREE online version of The Brainstomer:
Get it now!
History
The original Brainstormer was created by concept artist Andrew Bosley while he was in art school at SJSU, studying visual development and illustration. As Andrew describes it, "I was always trying to give myself little concept projects to keep myself sharp and thinking. So I created a list of objects, persons, things, etc. and a list of styles, adjectives, etc. These very large lists were in the back of my very first Moleskine (an address book used as a sketchbook).
Sketch Hunter, the art of Andrew Bosley
Educational Discount
The Brainstormer is participating in Apple's discount for educational institutions. If you are joining the many schools and workshops using The Brainstormer in their curriculum, you may be eligable for discounted pricing. See Apple's Educational Volume Pricing Program page for details.