Play Along with any song on YouTube. Jamalama offers a simple way to play along with performances, covers and backing tracks on YouTube. A chord chart tracks your place in the song, and shows you the chord diagrams for the current and next bars.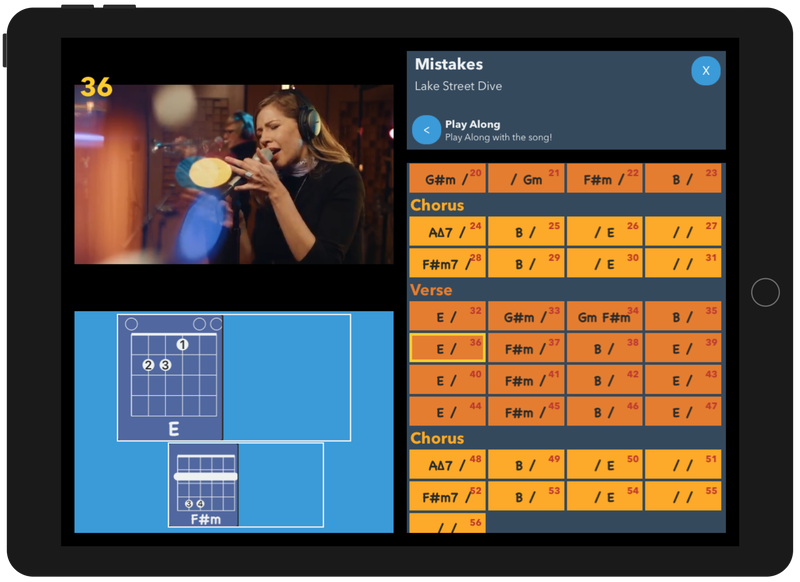 Simple and Approachable
There are a lot of apps out there that let you play along with videos, but none of them really worked for me. Some apps try to use AI to guess the chords, but none of those work very well, and practicing with the wrong chords is worse than not playing at all. Others had great quality chords and transcriptions, authored by profressionals, but you were stuck with their limited selection of songs.
Jamalama focuses on making it easy to enter chords. It's not too hard to find the chords for any song these days with a quick google search, so entering the chords becomes the task. My goal was to allow anyone to enter the chords for a song in just the time it takes to watch the video a few times. Jamalama breaks this down into three steps:
Tap the timing Watch the video, listen and tap on the downbeat (the first beat of each bar). Once the estimated BPM stabalizes, you're done and it will fill in the timing for the rest of the song. For live performances or songs with tempo changes you might need to tap through the whole video.

Split into Sections Watch the video again, and label each bar as Chorus, Verse, Intro, etc. You can skip ahead and label chunks of the song at once.

Enter the Chords Now that you've told it where the chords go, tell it what the chords are. Enter in the chords for each bar. Not gonna lie, this is a bit tedious, but there's some features to streamline the process, such as frequently used chords, duplicating a previous verse or chorus, and copy/pasteing blocks of chords. Works great with a browser by your side with iPad multitasking, or I usually just find the chords on my phone.

Play Along and Jam! That's it. Once that is entered, it works like a regular youtube player, except it shows you your place in the chord chard and the chord diagrams for the current bar.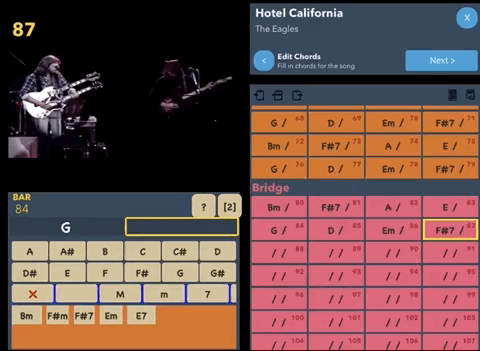 Once you're done, the song is saved in your iCloud and can be played from any of your iPads that are logged into the same account, or you can publish the song to share it with everyone. And as more people use the app, there will be more published charts that you can use right away.
All the Chords
Check out guitar George. He knows all the chords. But my man is strictly rhythm, he don't want to make it cry or sing.
Jamalama comes with a chord database for Guitar and Ukulele (Piano voicings and Mandolin coming soon). Or you can just display the chord symbols.
Coming Soon
Jamalama will be out soon, exactly when depends on how much time I have to work on it. If you'd be interested in helping me to beta test it, drop me a line at joeld@tapnik.com. Thanks!